Why is it when we want to be at our most creative and innovative, we resort to using the most worn-out cliché at our disposal? "We need to think outside the box on this one!"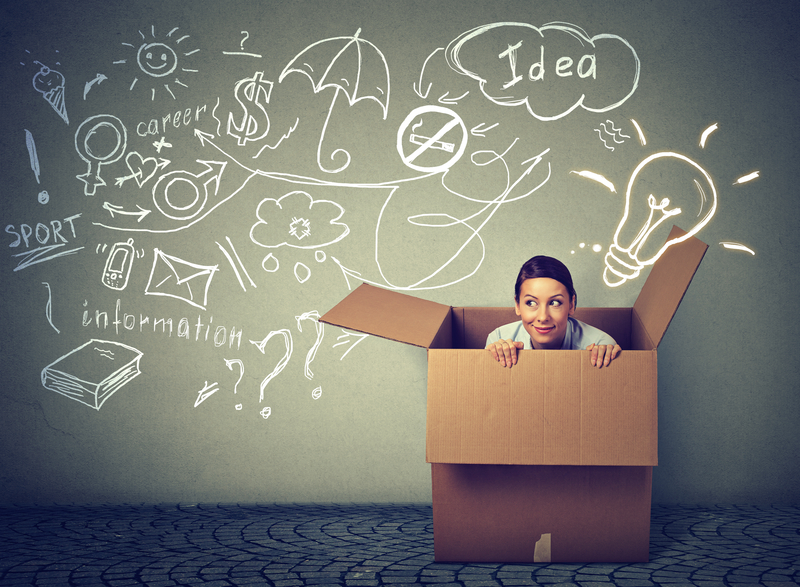 Ugghhh.
First of all, that 'box' is there for a reason. It gives us boundaries and guidelines on what we want to accomplish. For example, if I say I want you to write an article on new ways small businesses can use social media, I've just given you a 'box'.
But if I tell you to get to work and give you no idea what to do, you're going to be totally and utterly lost.
Second, if we want to be more creative, let's start by abolishing the "think outside the box" phrase and make a pact, just between you and me. From this point forward, if you or I say or write 'th*nk o*ts*d* th* b*x', we owe $5 to our favorite charity payable immediately.
Agreed? Good.
Now then, what can we say when we want to express our desire to think differently, get off the beaten track, search for an innovative approach, break new ground and take an imaginative leap?
Seriously, I'm asking you for your help on this one. Even the phrases I used in the previous sentence sound worn out and tired.
I did have one thought, but if you're a Star Wars fan then you might not like it. For whatever reason, people seem to either gravitate towards Star Wars or Star Trek. I'm told Star Wars is for dreamers and Star Trek is for science geeks. This might be wrong, but I can see some truth to it.
Here's what I do know: In the very first Star Trek series during the opening credits, we hear Captain Kirk saying…
"Space, the final frontier. These are the voyages of the Starship Enterprise. Its 5-year mission: To explore strange new worlds, to seek out new life and new civilizations, To Boldly Go Where No Man Has Gone Before." What do you think?
Can we boldly go where no one has gone before?
It beats thinking outside some cliché box.
Whoops! That's $5 I owe… now where did I put that checkbook… 😉